We have a new favourite broker here at Compare the Forex Broker UK
While a fairly new Australian broker on the scene, Fusion Markets has quickly captured our attention with its extremely low trading costs.
Putting costs aside, they still bring a lot to the table and I'm excited to see what they do in the future.
Key Points:
The lowest advertised commissions and spreads I've seen or reviewed here on CTFB
Fast application process with fee-free funding
Great looking client portal that's easy to use
Good support/fast replies
Spreads, Pricing and Commission
Howard Marks, the famed value investor once said, "It's not what you buy, it's what you pay".
While Marks was talking about investments in the credit markets, one of the most crucial determinants of your returns from forex trading (or investing) is how much you pay in transaction costs.
It's the reason why I don't try to review other brokers whose spreads and commissions are just not competitive.
Unless the broker has a huge product range and you're wanting to have every product under the sun (hey, who doesn't want to know they could trade Brazilian Put options if they needed to?) then you should not be even considering a more expensive option.
Over time, if you're trading 10 times a month and paying $10 versus someone who trades 10 times but only pays $4, then you don't need to be a genius to understand who has a better chance of better returns over a full calendar year (Cheatsheet: $10 x 10 x 12 months = $1200 vs. 10 x 4 x 12 months = $480, a whopping $720 difference!).
Sure, the trader paying more might be better than the other but still, why make it harder for yourself?
It's with that understanding that I say we have a new favourite here.
The commission rate is one thing though, the spreads and other pricing still needs to be very competitive. Any broker can charge a low commission but then put the costs in elsewhere without us knowing.
I'm very pleased to report that the spreads and pricing are very tight. Even tighter than IC Markets who are probably considered to be the tightest in the industry.
If you've read my previous posts of our other favourite forex brokers, then I won't drone on too much more on it.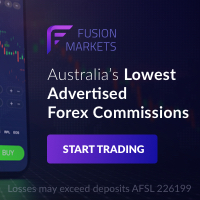 Service
As is standard for our reviews, we like to test the service function via three channels
Live Chat
Phone
Email
All performed really well at different times of the day. I deliberately asked silly questions to the operator on live chat and they were very patient with my requests over the space of 45 minutes of back and forth.
Applying for an account
This might be the best part of Fusion behind the spreads.
The application is seriously quick. It looks really nice too.
I was able to get it done and opened in under four minutes.
Other brokers can take anywhere from 8-24 hours, so this was great. You don't want to spend your time going back and forth arguing over some photo ID etc.
Execution
The execution was super quick.
Fusion says on their website that they do not take the other side of their risk and goes into great detail of their business model and how they deal with clients.
Admittedly this is a lot more than other brokers like IC Markets or AxiTrader do. The latter doesn't even try to explain to their execution model whereas IC Markets claims to be True ECN but not exactly sure whether they are?
Reliability
While it has only been a few weeks, so far, I've found Fusion to be extremely reliable.
Pricing is always consistently low, day in day out and with the commissions you pay, it is almost too good to be true.
In terms of stability, I've seen no pricing outages or issues so far but my core belief is that a broker really shows its true colours when it has a big mistake like an outage so stay tuned for this one.
Other points
I found a really decent amount of questions could be answered by emailing them or using live chat.
Comparing this to say AxiTrader, IC Markets or Global Prime and there is a stark contrast.
Fusion is fairly new (only a year or so old) so this is surprising to see that they have taken the time to
Their portal is probably the best designed out of all the brokers we've reviewed here.
Apparently, IC Markets is in the process of updating theirs at the moment so stay tuned to see what that comes out as.
In short, though, a well-designed portal where everything is easy to find or easy to do is essential.
Some brokers deliberately design the withdrawal function to be hard! God knows why but they do.
Areas for improvement
No broker is perfect of course. I've highlighted some things where Fusion could improve.
Areas for improvement include the lack of other funding methods for international clients besides Cards or Bank Wire.
I would like to see other products like metals and soft commodities added.
While the portal is really good looking, it could do with added features like more tools for traders.
Finally, adding MT5 seems to be a trend of brokers these days. Fusion being a new broker, it seems strange to only offer MT4.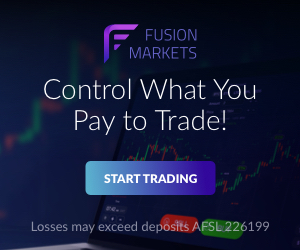 Final Thoughts – Should you open an account?
Absolutely and overwhelmingly YES. Click here to open an account
They are now our top-rated Forex broker on this website.
You might not think about it often, but we do (and that's why we're here), and COSTS ARE EVERYTHING. Say it with me!
You will drastically increase your chances of success as a trader if you're paying less to trade. You get more money back into your pocket and have less room for error than another guy who is paying twice or three times as much!